Trønderlåner og planløsning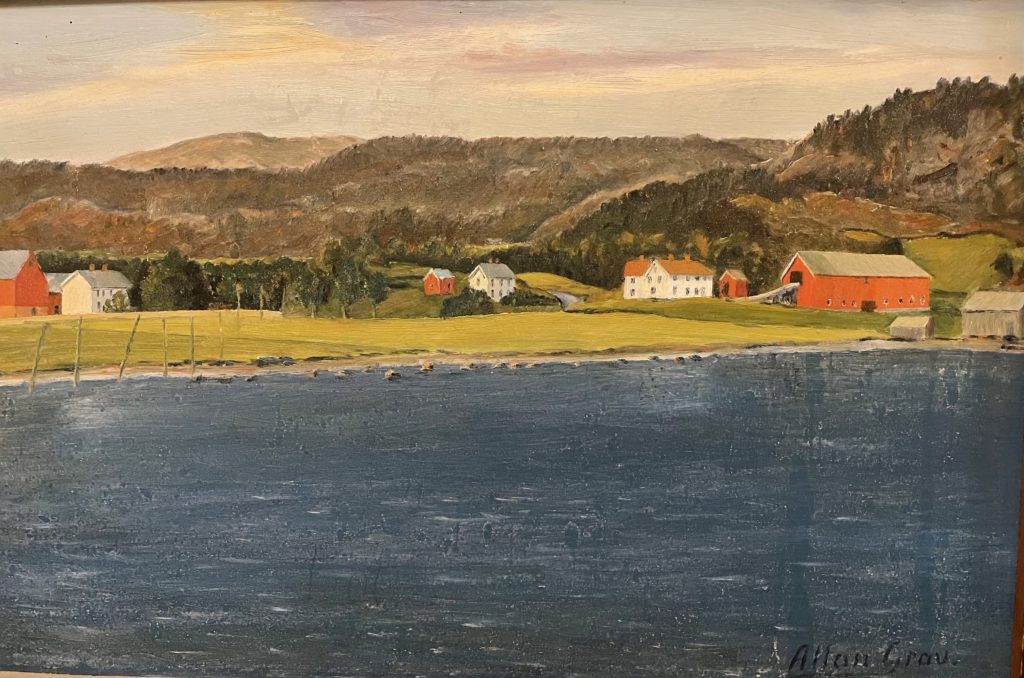 Hovedlåna på Eide er ei trønderlån, og som alle trønderlåner er den lang og smal. Bredden ble begrensa av gårdssagene, som kunne sage stokker på opptil seks meter (senere opp til sju meter). Låna på Eide var antakelig opprinnelig bare fem meter. Dette betyr at rommene ligger på rekke, i seksjoner, og for å komme seg fra ett rom til det neste, har du egentlig bare to muligheter. Enten må man ha gjennomgang fra ett rom til neste rom (med alt det medfører for mangel på privatliv, særlig på loftet), ellers må man ha en gang som strekker seg i hele husets lengde med dører inn til alle rommene.
Hovedlåna på Eid
Låna (våningshuset) på Eid(e) var muligens opprinnelig bygd i en hesteskoform. I 1821 ble gården delt i to (se innleggene om Johan Arnt og om bygningskroppen), og husene ble også delt. Deler av bygningsmassen ble dermed flyttet fra Østergården til Vestergården (mer spesifikt fra Nergården til Øvergården). Det som stod igjen, var en L-forma bygningskropp.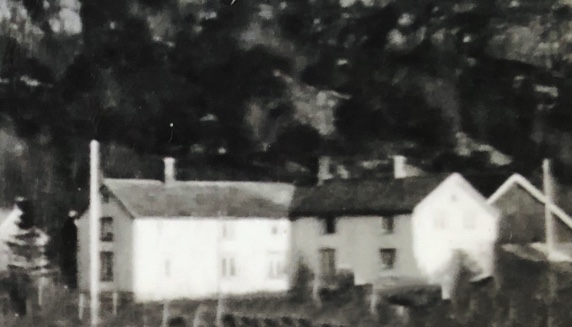 Denne bygningskroppen ble gjort om i 1948. En seksjon av nordfløya ble revet, og en annen ble slept litt bort fra hovedkroppen (denne seksjonen kalles den dag i dag for Nordstua). Altså vandret den i motsatt retning av det som er avbildet på tegningen under.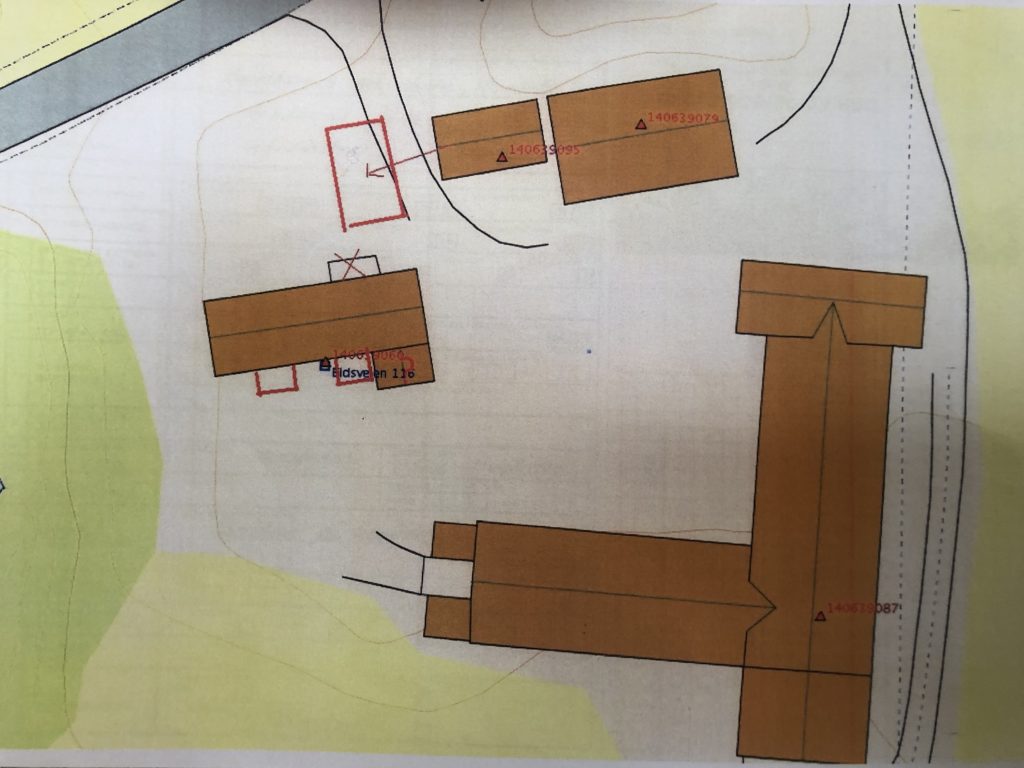 Den gjenstående bygningskroppen ble utvida et par meter mot øst, det ble også utvida litt i bredden, med en svalgang mot nord, og taket ble hevet.
På denne tida fantes det ikke tømmer å få skaffet på Fosen, fordi tyskerne hadde støvsugd hele halvøya for alt som fantes for å bygge anleggene sine. Blant annet hadde de bygd rullebane for flyene sine: tømmertremmer i tre lag, bolta sammen. Etter krigen blir denne rullebanen demontert og tømmeret delt ut til nybygging. En del av det finner altså veien til østveggen på Eide.
Under renoveringen avdekker vi solid flyplank fra rullebanen på Ørland. Rullebanen ble montert av krigsfanger og så demontert etter krigen. Deretter ble deler av rullebanen satt opp som østvegg på låna i 1948. Snakk om at det sitter historie i veggene her!
Foto: Malene.
Nå står man altså igjen med ei lån som ser ut som ei ganske typisk trønderlån; fra å (muligens) ha vært ei hesteskoforma lån, til ei L-forma lån, til ei ordinær, rektangulær lån.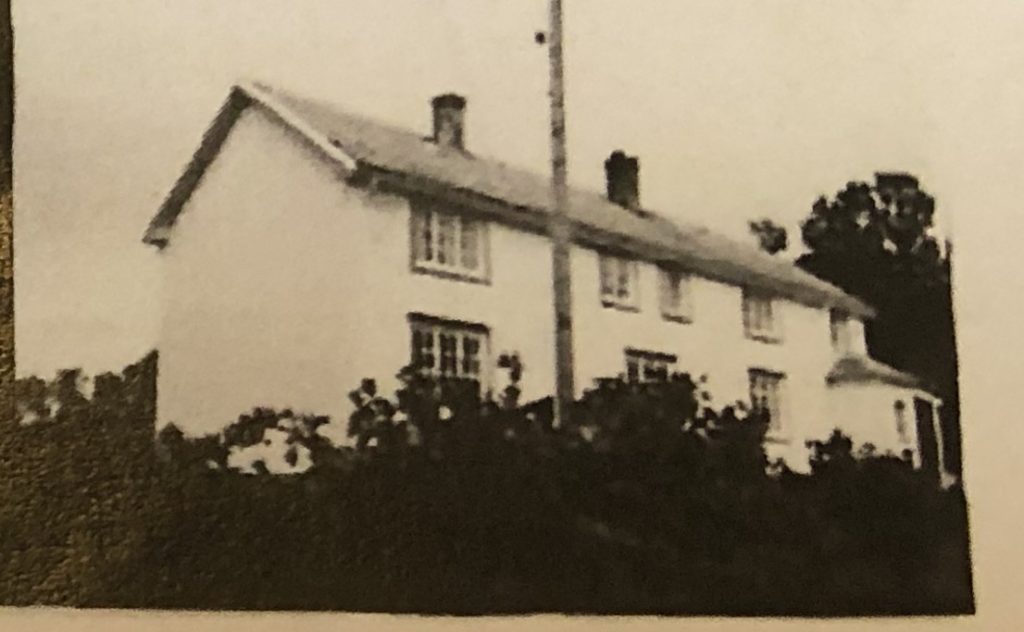 Når yngstebror til Hans, Tor, flytter ut, bestemmer Jon Gunnar seg for at det er fornuftig at han flytter inn hos farfar. På denne tida har Gudmund begynt å bli dårligere, han faller rett som det er, og vi syns dette er en smart ide. Jon Gunnar ordner seg en «hybel» på loftet, i «vesterenden». Det som opprinnelig var to små soverom, et kleskott og en bit loftsgang blir inkludert i et ganske stort hovedsoverom som strekker seg i hele bredden på låna, med trefags vindu på nordveggen og sørveggen, og dermed rikelig med gjennomlys.
Når dette er gjort, er det ganske fristende å komme i gang med renovering av resten av huset også, men Gudmund ber for seg og sier at han syns han var vært med på nok ombygninger i sitt liv. Og kan vi være så snille å vente til han er borte? Og det er klart at vi kan. Det er han som må bestemme det.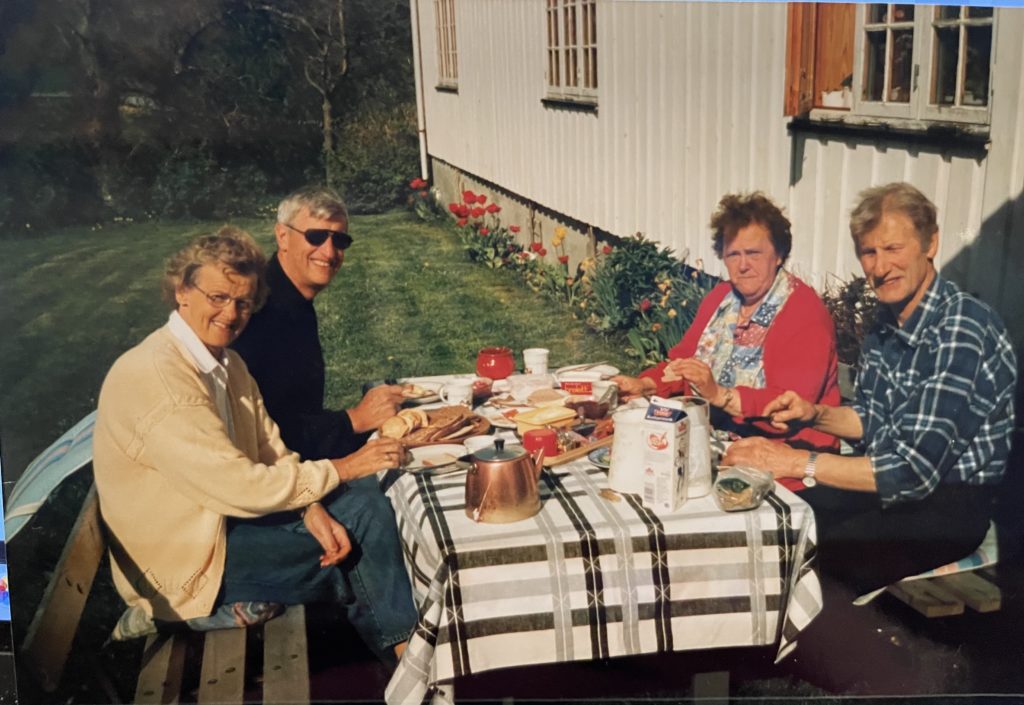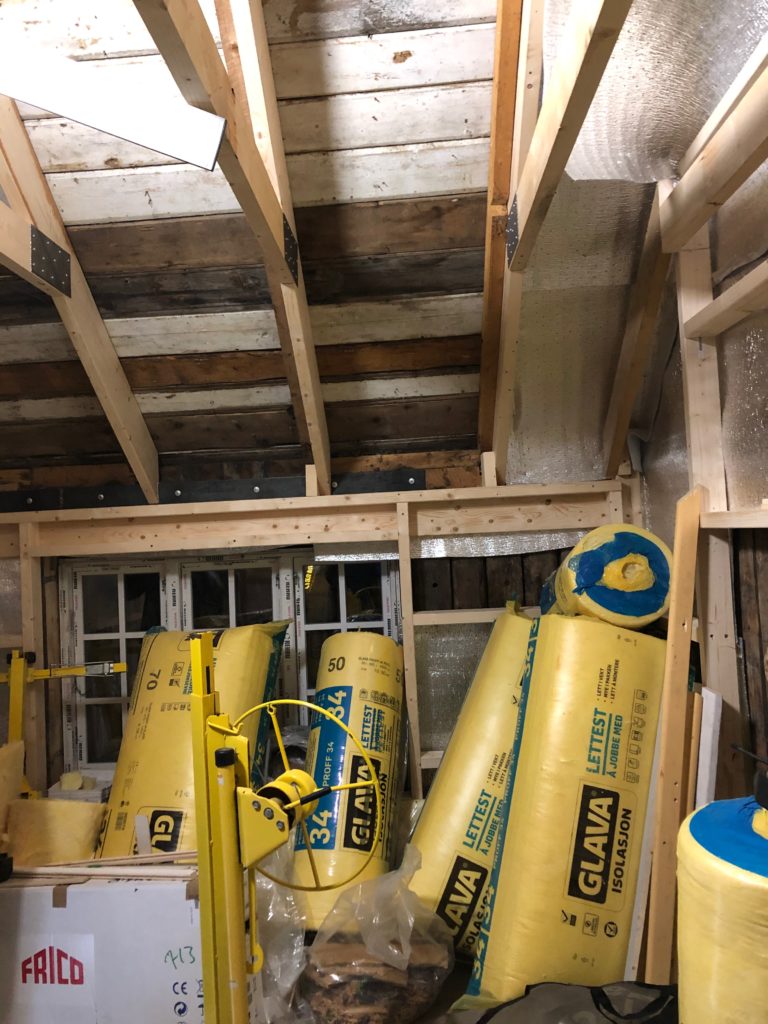 I 2019 er både Kitty og Gudmund borte for lengst, og det har kommet ny «ungkone» på Eide: Malene. Jon Gunnar har starta på renoveringa, men i og med at han jobber døgnet rundt, går det ikke så fort. Malene har vært veldig tålmodig hver gang hun er på besøk, trør over glava-ruller for å komme seg inn og ut, forserer plankestabler og lever i en evig sky av byggestøv.
En meget tålmodig dame, som sagt.
Vi har tenkt på mulige nye planløsninger i mange år allerede. Den gamle planløsninga er svært prega av at det var viktig med en inngang for husets folk (mot sør), og en annen for gjester (mot nord). Gjestene skulle selvfølgelig slippe å gå via kjøkkenet. Nå ble «nyinngangen» mot nord egentlig nesten aldri brukt, for det meste ble det lagerrom og ekstra-kjøleskap. Gjestene gikk ellers gjerne og gladelig via kjøkkenet. I 2001 ble det bygd et lite tilbygg til erstatning for det gamle bislaget mot sør/øst, og nå ble det god plass til garderobeskap etc. Det gamle spiskammerset og plassen til fryseren ble gjort om til gjestedo og et lite bad. Trappa fikk til og med en liten terrasse, som egentlig bare ble brukt til å fôre kattene på. Da Jon Gunnar begynte med renoveringa, starta han med inngangspartiet fra 2001. Egentlig ville han rive dette, siden han syntes det ødela fasongen på bygget. Men jeg (hans mor) mente at dette tilbygget også er del av husets historie — alt må ikke være fra 1800-tallet for at det skal være bevaringsverdig. Så da ble vi enige om at her skulle det bli vaskerom med dusj og skap for fjøsklær. Kattenes fordums fôringsplass ble innlemma i det nye vaskerommet og ble til et helt nytt kjølerom.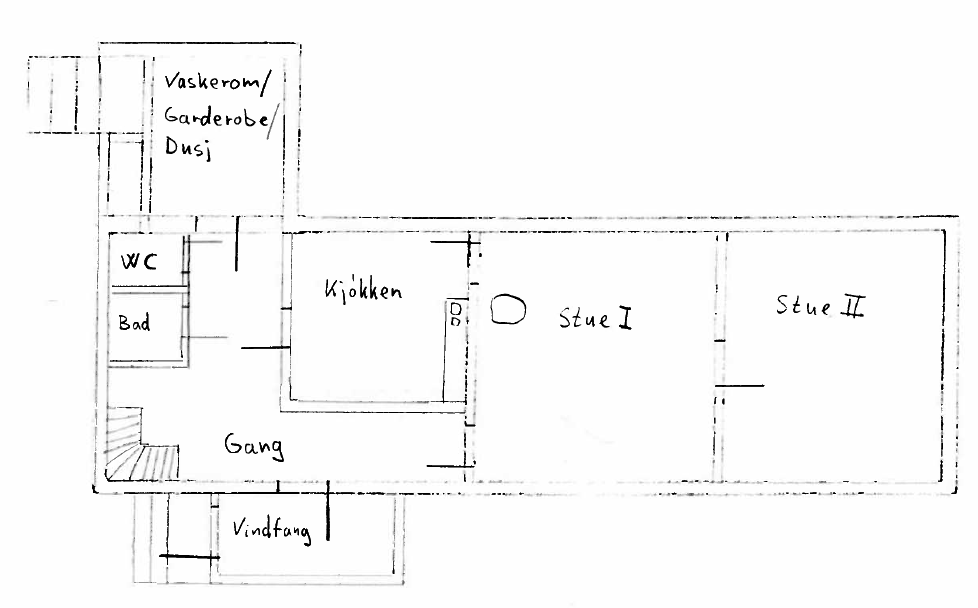 Siden dette er gamle bygninger, er de underlagt strenge vilkår, og alt må søkes om og godkjennes. Her kan en ikke bare ta seg til rette. Jeg var ganske opptatt av at vi skulle eliminere mest mulig gang: Låna er smal fra før, og gangen strekker seg i nesten hele husets lengde i andre etasje, og utgjør masse dødt boareal i første etasje også. Det virket som om det mest fornuftige var å lage et lite påbygg midt på veggen mot nord, der vi kunne plassere trappa til 2. etasje. Dette er den trappa som står i nederste venstre hjørne på tegninga over.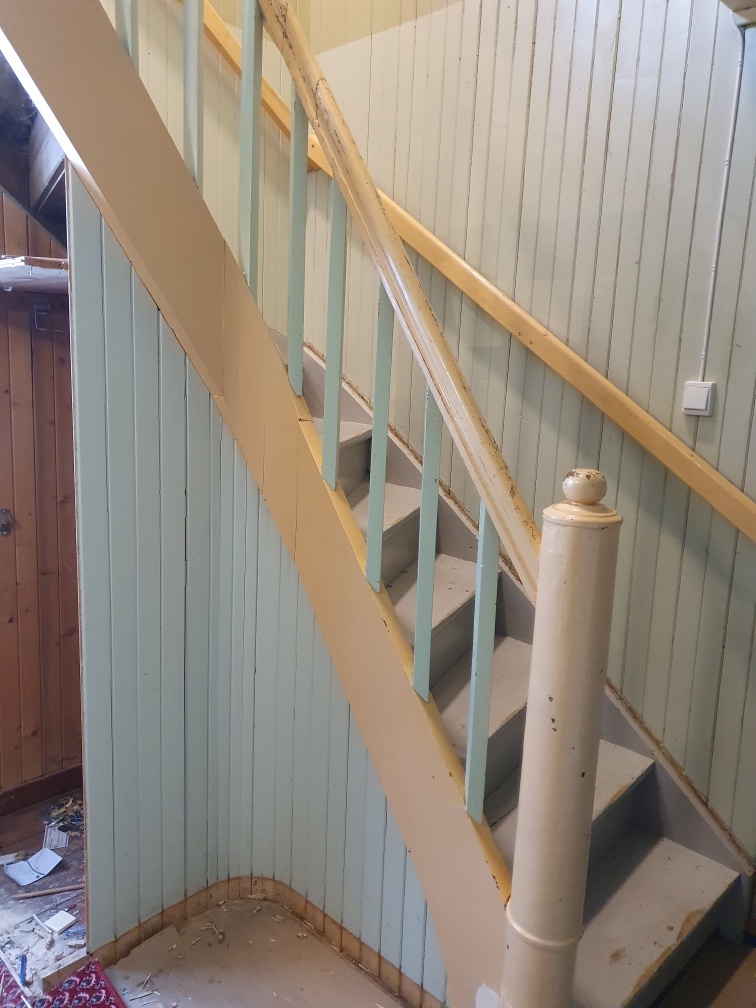 Det aller beste ville jo være om vi klarte å bevare trappa intakt, slik at den kunne fortsette sitt virke som loftstrapp også i det nye bygget. Det er jo ei fin trapp? Vi var fire stykker til å demontere trappa og buksere den ut gjennom kjøkkenet, via plena og ut på låven, i påvente av at den kanskje kunne brukes om igjen. Det må nok modifiseres litt her og der, men i utgangspunktet var vi innstilt på at dette skulle være sjølveste trappa også etter renoveringen.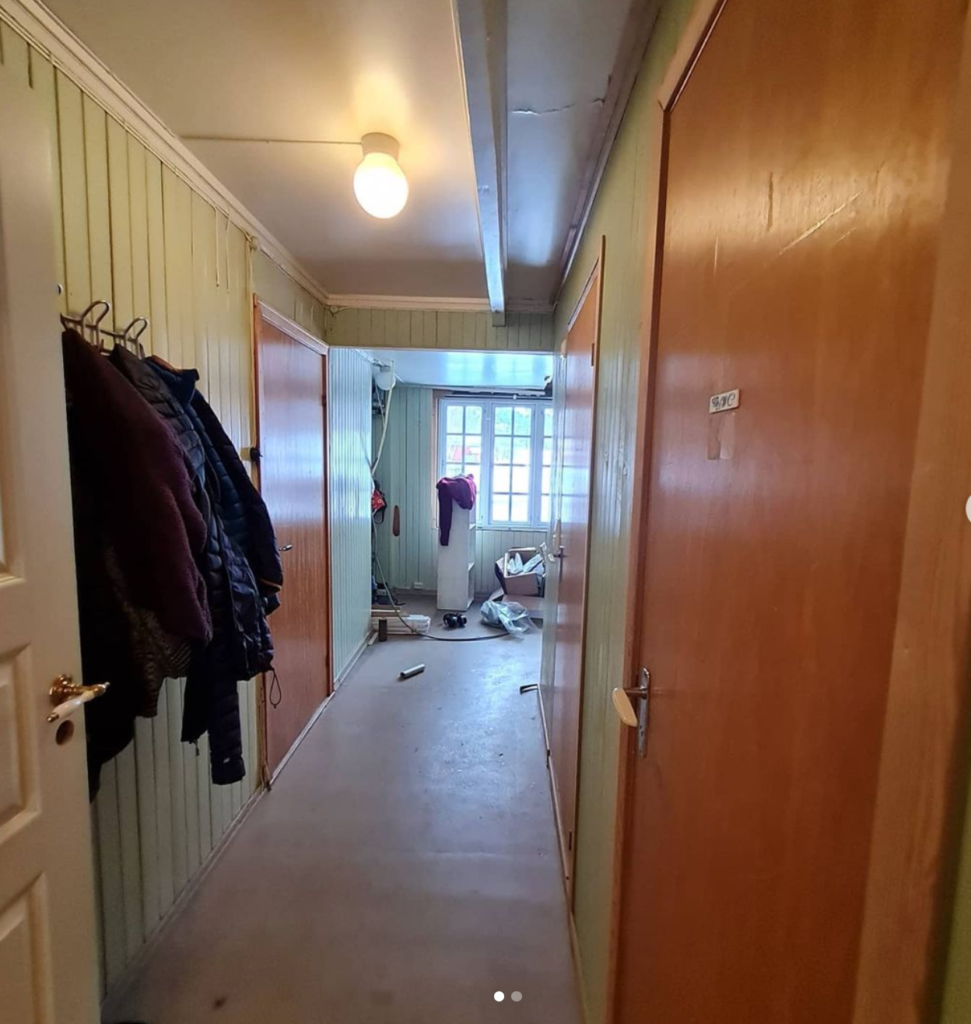 Bilde tatt fra (det nye) vaskerommet. Kjøkkendøra til venstre, gjestedo og bad til høyre, og trappa bortest i høyre hjørne (syns ikke på bildet).
Lang gang, altså. Dødt boareal. Rundt hjørnet framme til venstre fortsetter gangen i en ny gang, langs veggen mot nord. Også dødt boareal, til nød brukt til lager.
Legg merke til at dette bildet er tatt etter at vi har bytta vinduet mot nord, der et gammelt tofagsvindu ble erstattet av et nytt trefags.
Hans har tatt kurs i bygningstegning og tegner gjerne sjøl. De første utkastene til ny planløsning var prega av at jeg ønsket et storvolig påbygg, som faktisk nesten ville gitt låna fasong av en T. Heldigvis har vi slekta full av arkitekter som har omsorg for slektsgården. Gunhild Eide (kusine av Hans) ga oss gode råd om å krympe påbygget til det helt nødvendige, slik at trønderlåna kunne fortsette å være trønderlån. «Sjela til huset er ei trønderlån,» sier Gunhild. Og «fagfolk er nå fagfolk, da,» som Sverre Jensen brukte å si. Så det er klart vi hører på det. Påbygget blir ganske mye mindre enn først tenkt.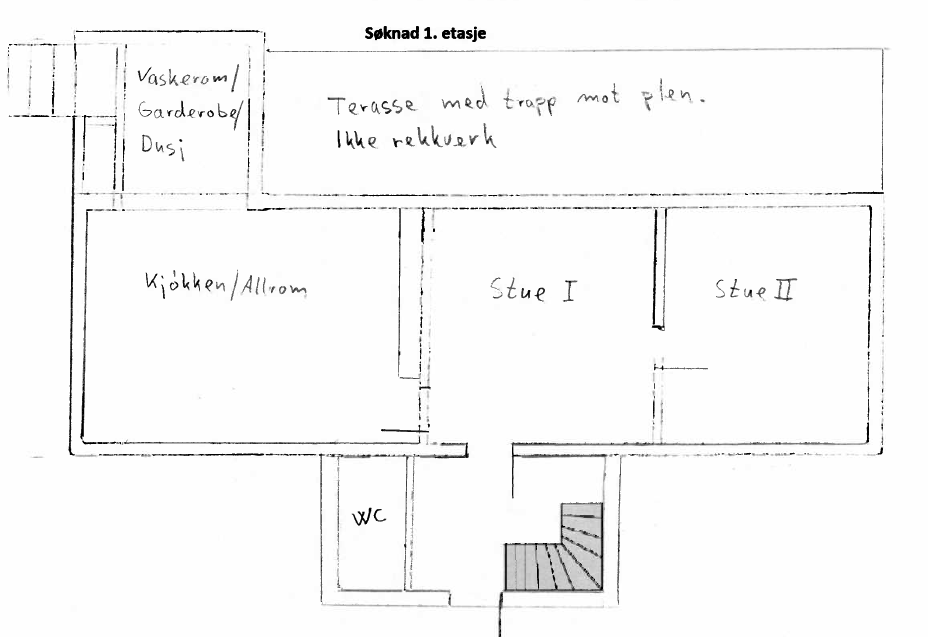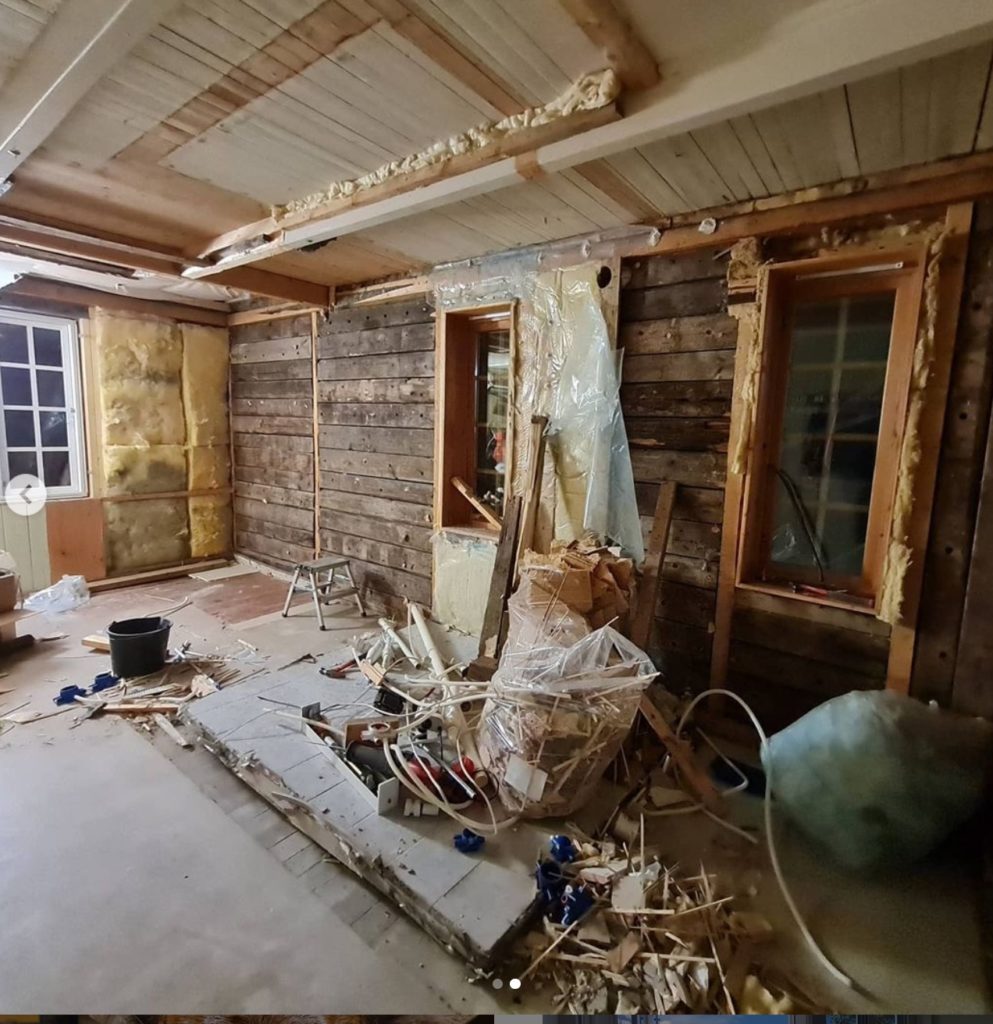 Den største forandringa er i den østre enden av huset. Når trappa flyttes, kan vi rive det gamle badet og gjestedoen, og legge åser i det gamle trappehuset. Dermed blir det et stort, nytt soverom i andre etasje i den østre enden av huset også. Og plutselig blir alt det gamle gangarealet, bad, trapp og do, tilgjengelig for å lage et gedigent, for ikke å si schvææært kjøkken, på 42 kvadrat. Å rive det som i dag er kjøkken og bygge nytt kjøkken, er neste prosjekt vi skal i gang med.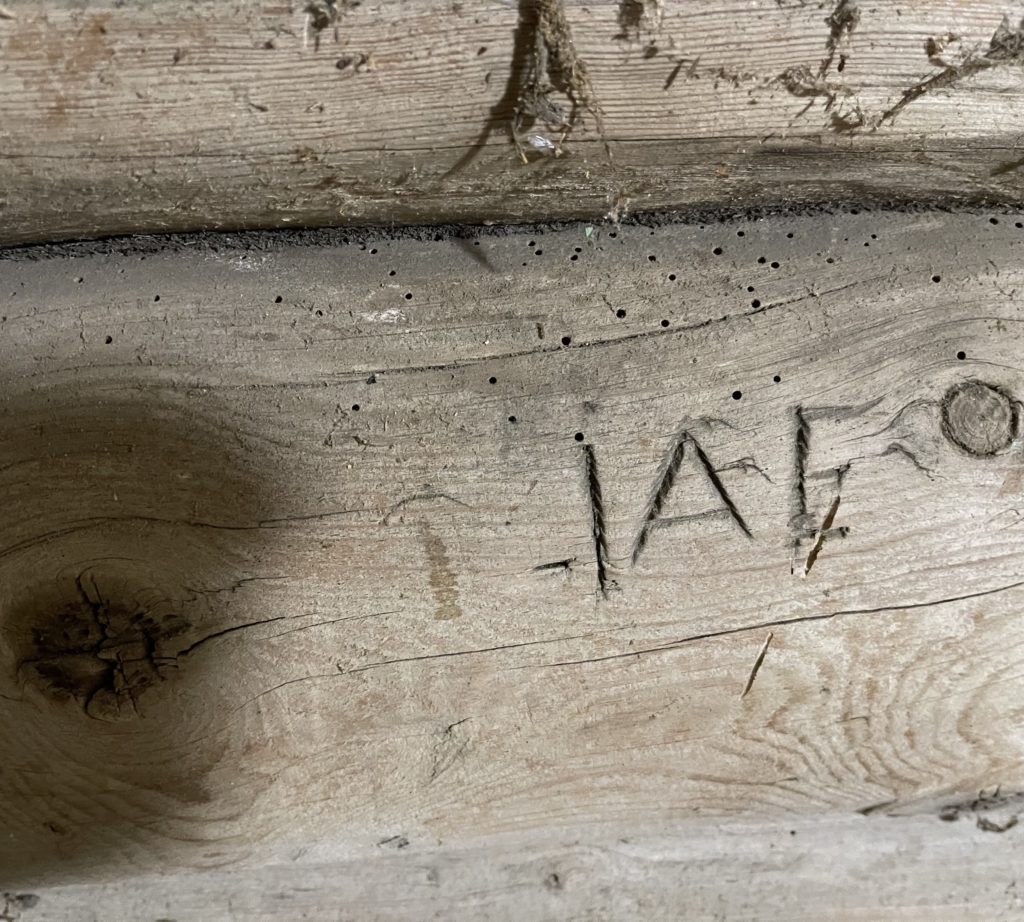 Og jammen finner vi initialene til den første forfaren, under alt panelet og tonnevis med muselort og støv. Dette er på kjøkkenveggen, det som helt sikkert var yttervegg da slekta kom hit.
JAE: Jon Arntsen Eide.
Vi setter inn vinduer mot øst, slik at det nye kjøkkenet/allrommet nå får lys fra tre sider, sør, øst, og nord. Vi har allerede satt in ny, dobbel terrassedør der det gamle kjøkkenvinduet var, med utgang til en ny, lun terrasse på sørsida, i nesten hele husets lengde. Vi har også satt inn to tofags vinduer i første etasje, på stua, der det før var ett trefags nede og to tofags oppe. Det blir penere med symmetri, synes vi.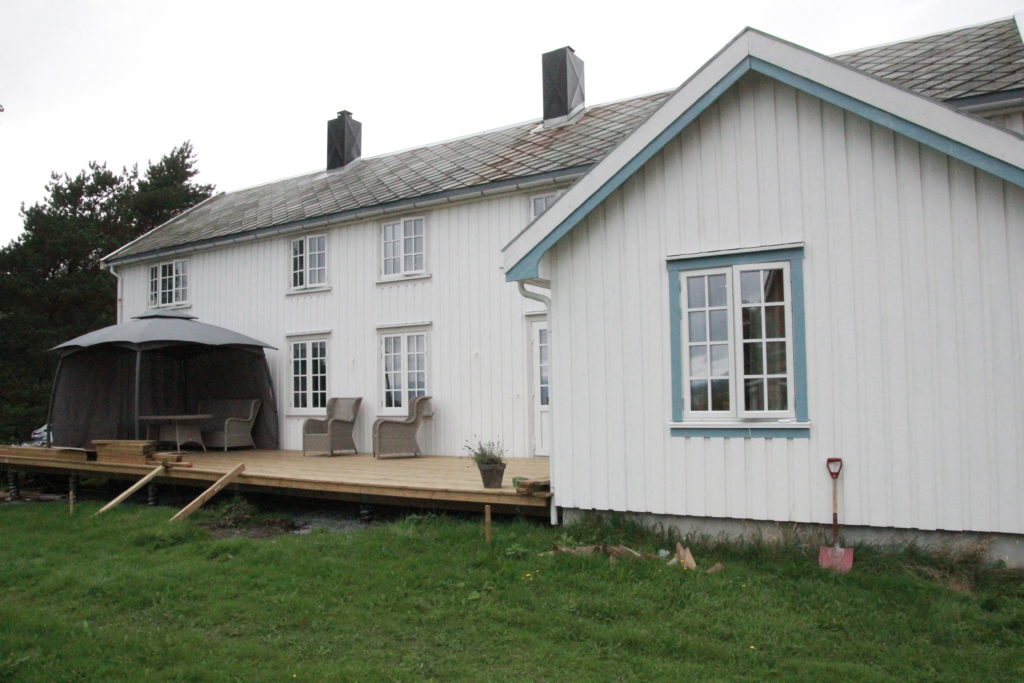 På loftet er det også ganske store endringer. Som sagt har vi et mål om å redusere gangarealet mest mulig, fra det som før var 14 meter til noe ganske mye mindre.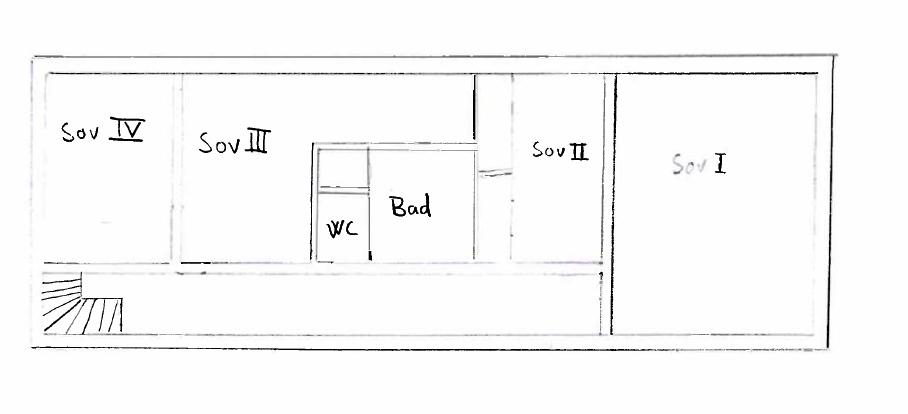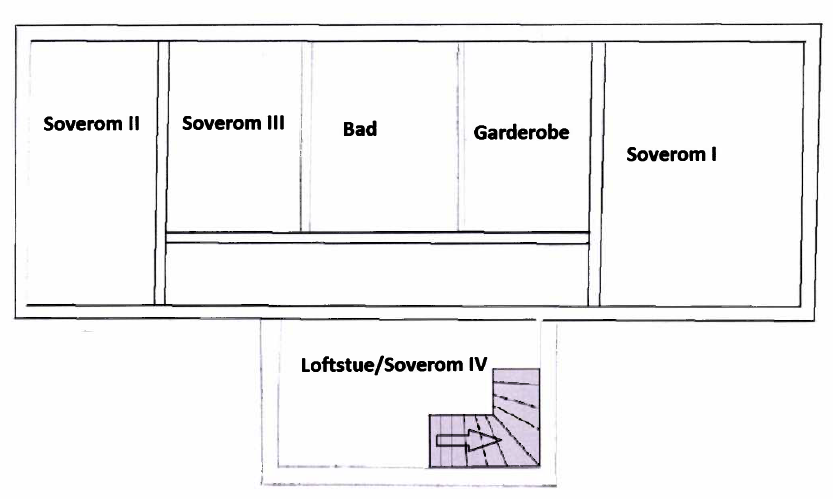 Et tidlig prosjekt er å lage garderoberom utenfor hovedsoverommet. Siden det er gjennomgang fra soverommet til garderoben, krymper gangen allerede med 2,5 meter.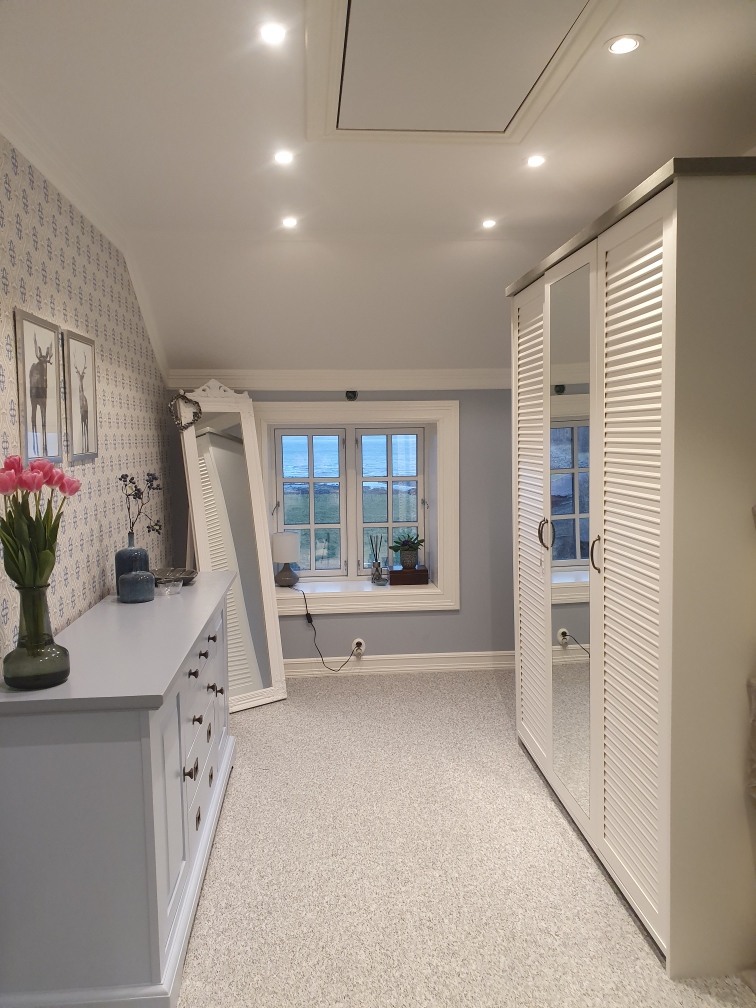 Dette var altså Tors rom før i tiden. Det er liksom litt sånn … annerledes nå.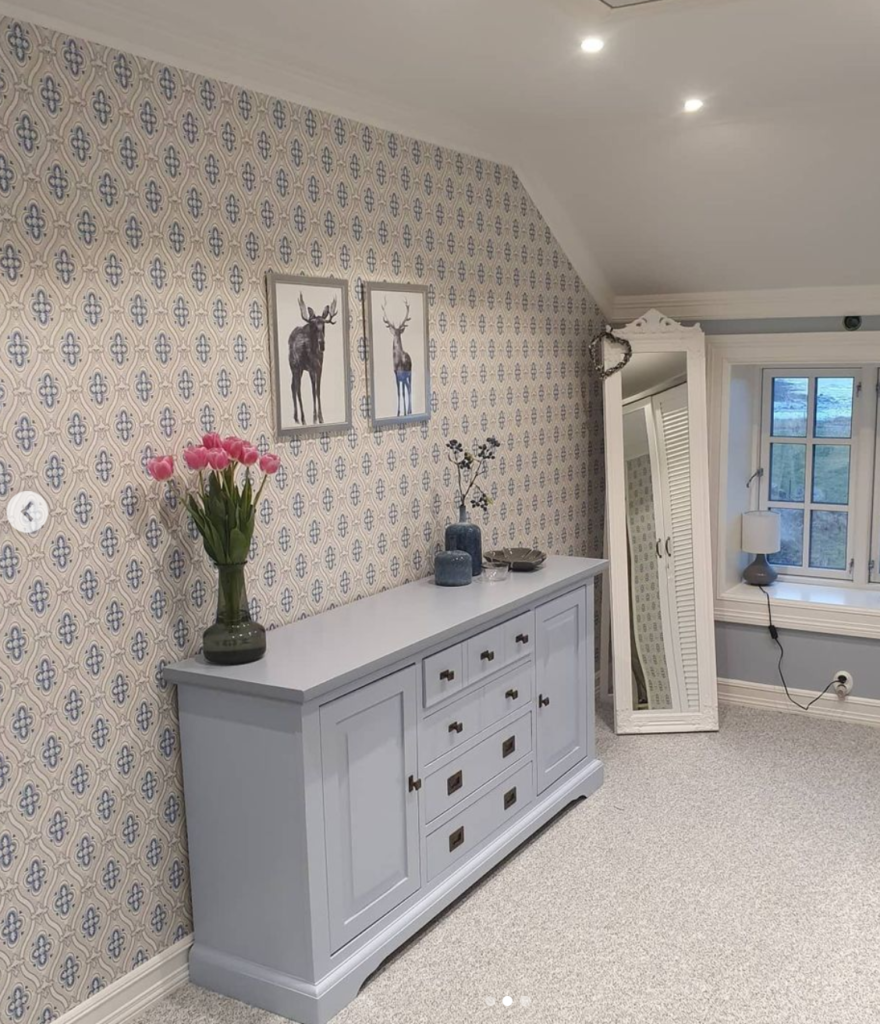 Malene en en fremragende interiørstylist, og det syns. Kommoden har hun kjøpt brukt på nett, og så pusset opp og malt selv.
Så var det badet.
Først må det gamle badet og doen rives. Disse lå midt i huset i andre etasje og hadde ikke vindu. Nå tas en del av det gamle hovedsoverommet inn i badet, så nå blir det ganske mye større.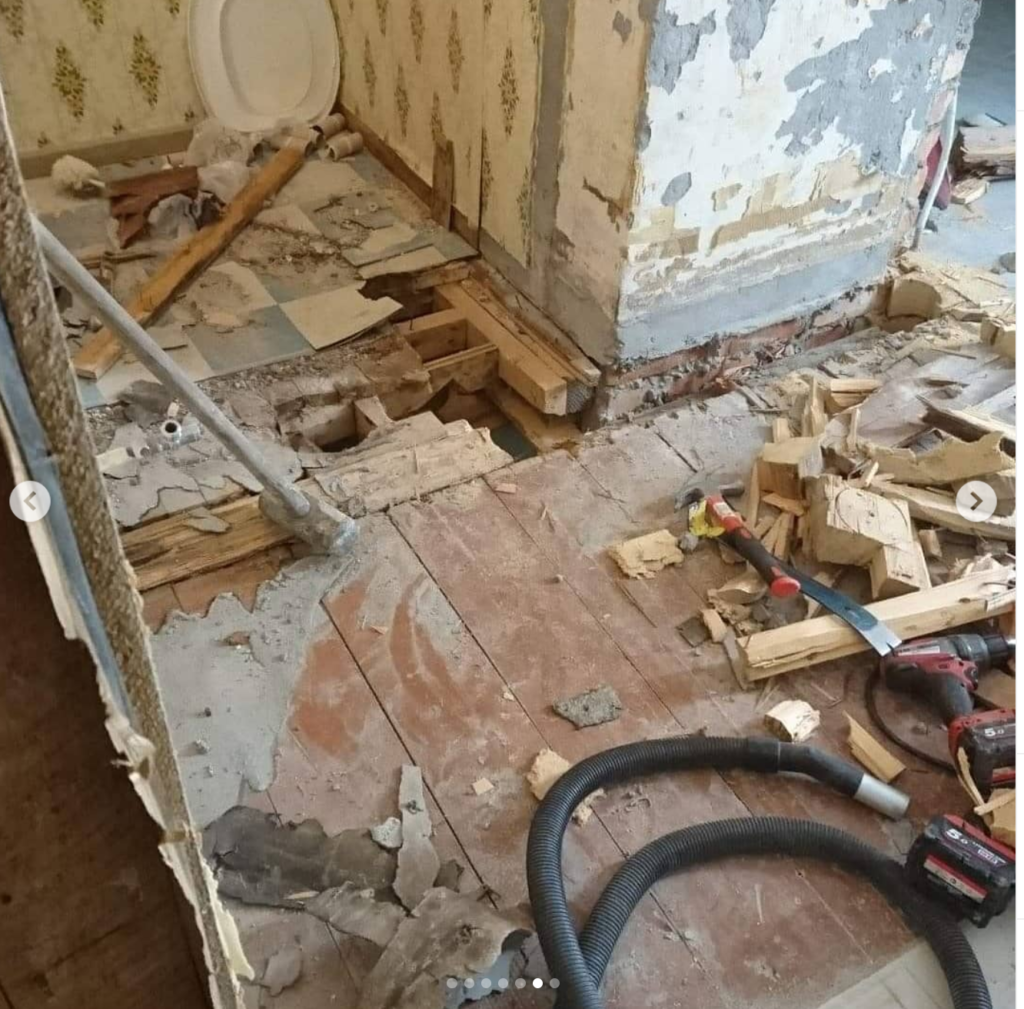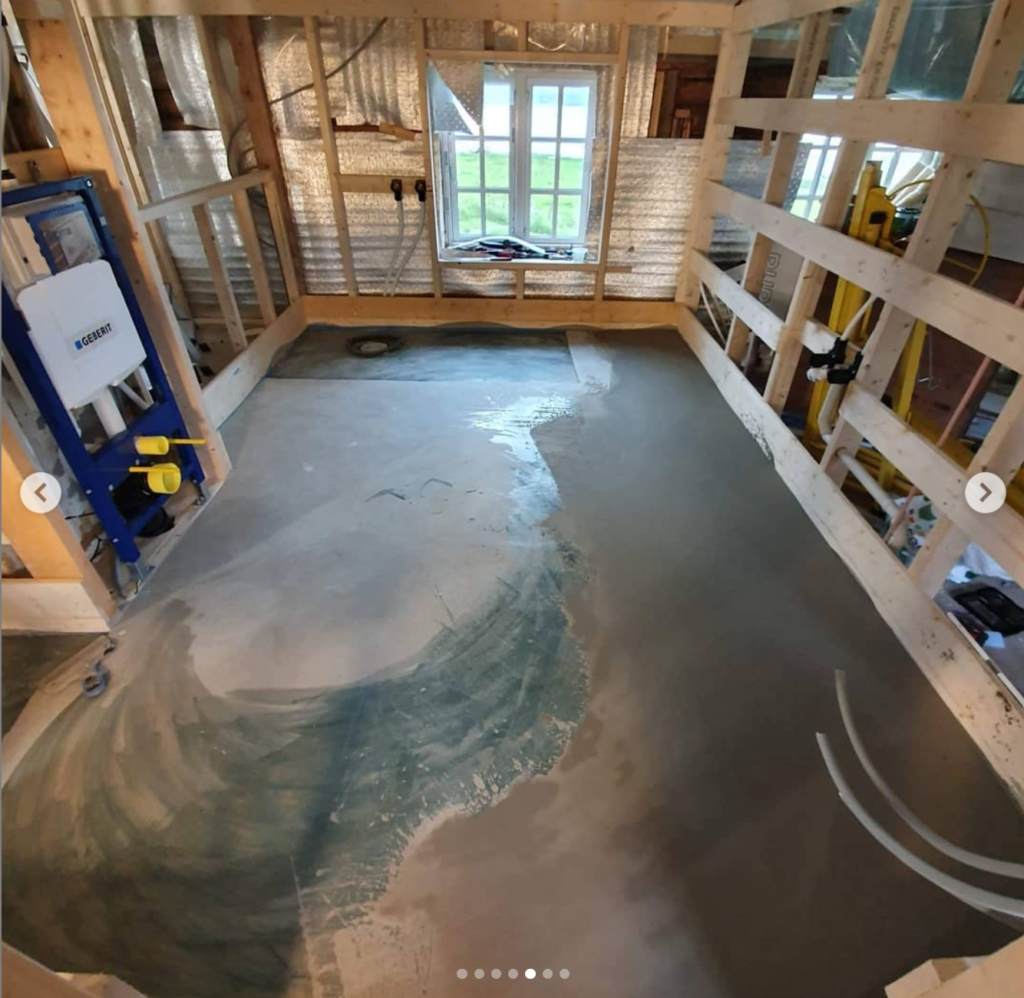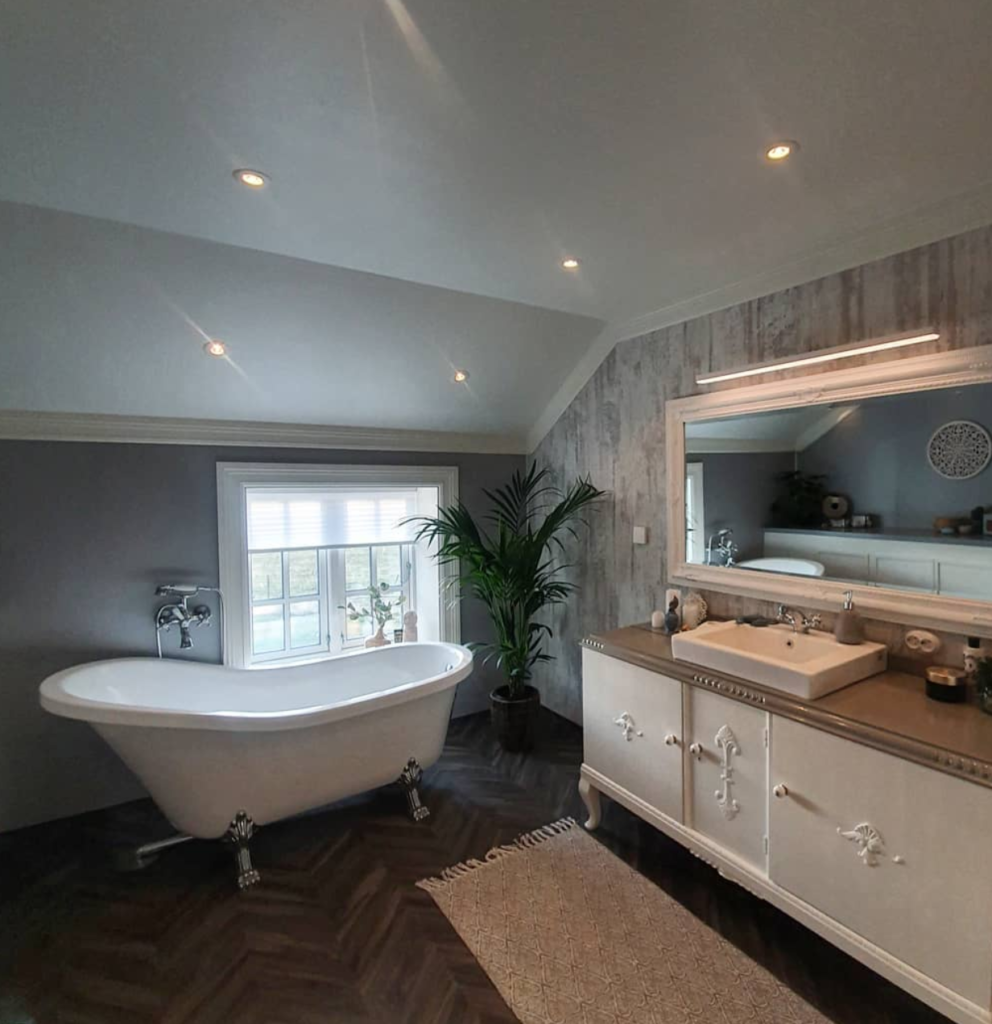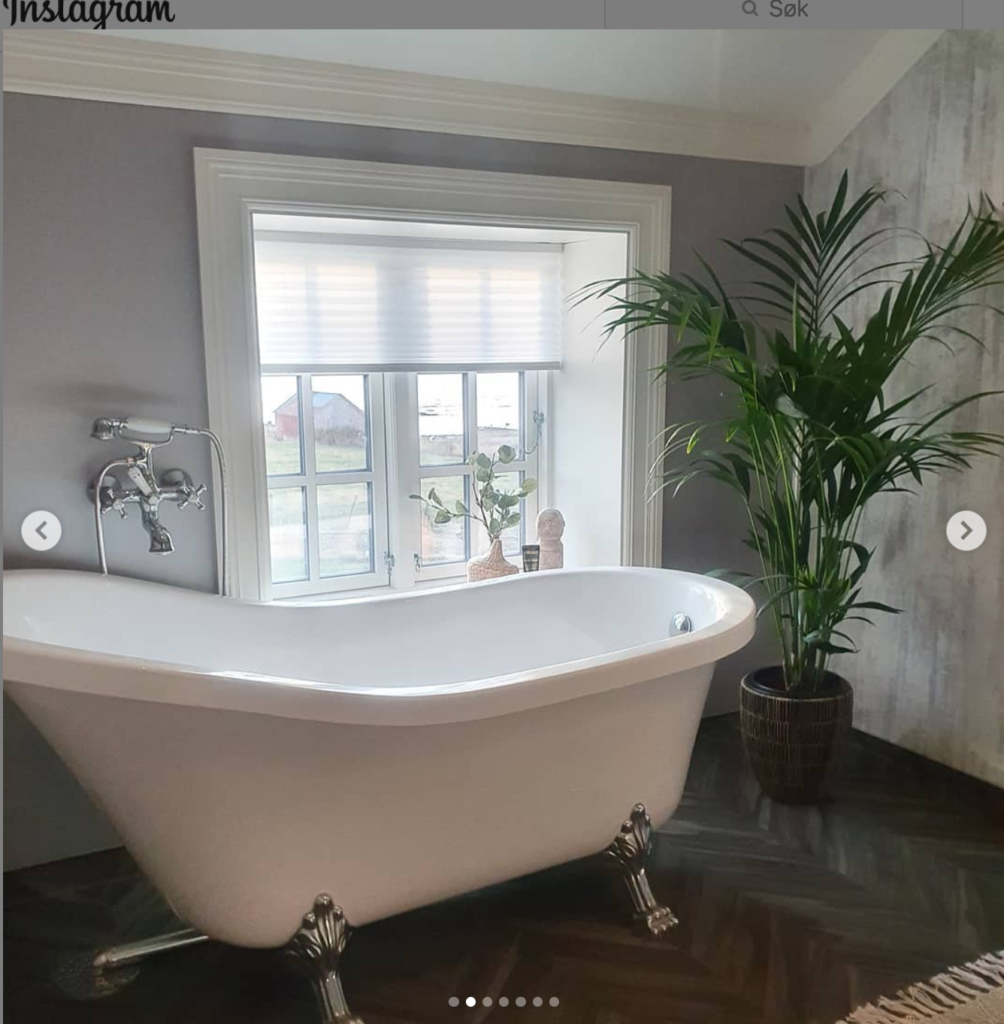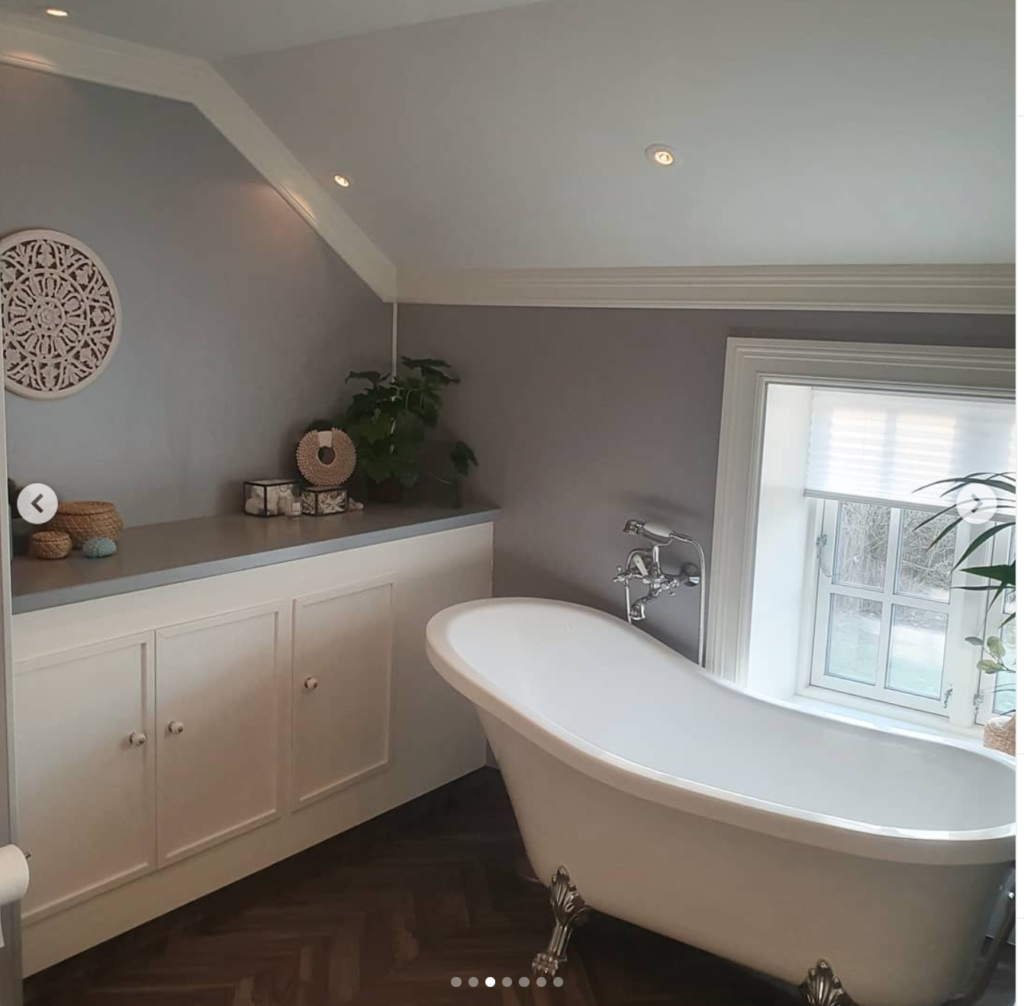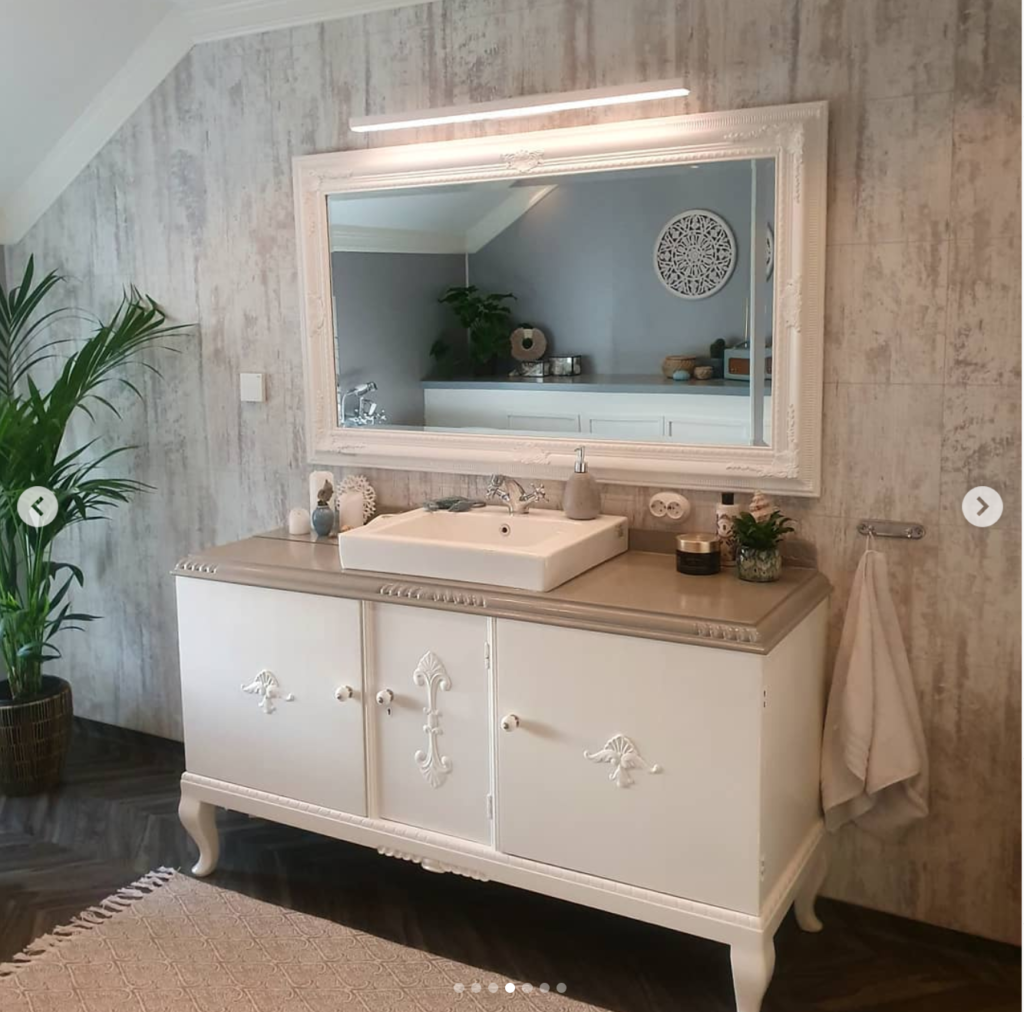 Det som før var hovedsoverommet (minus en del som nå er blitt bad), er blitt et fantastisk flott gjesterom (soverom III). Her må det gå an å få en god natts søvn.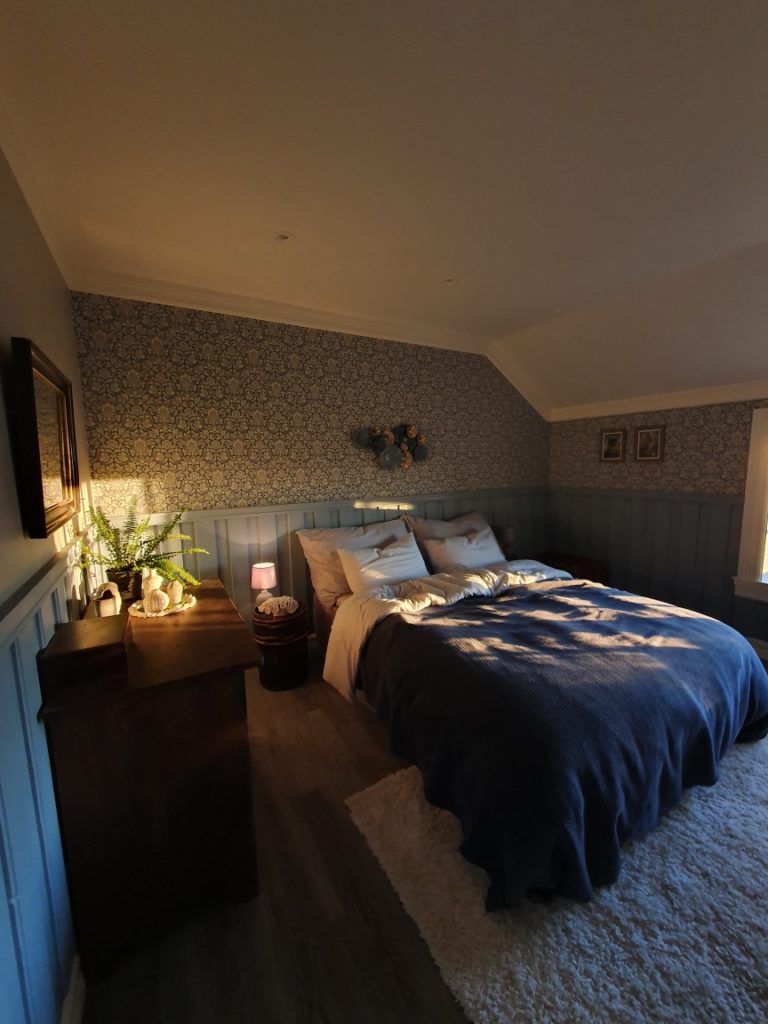 Malenes interiører er alltid vakre.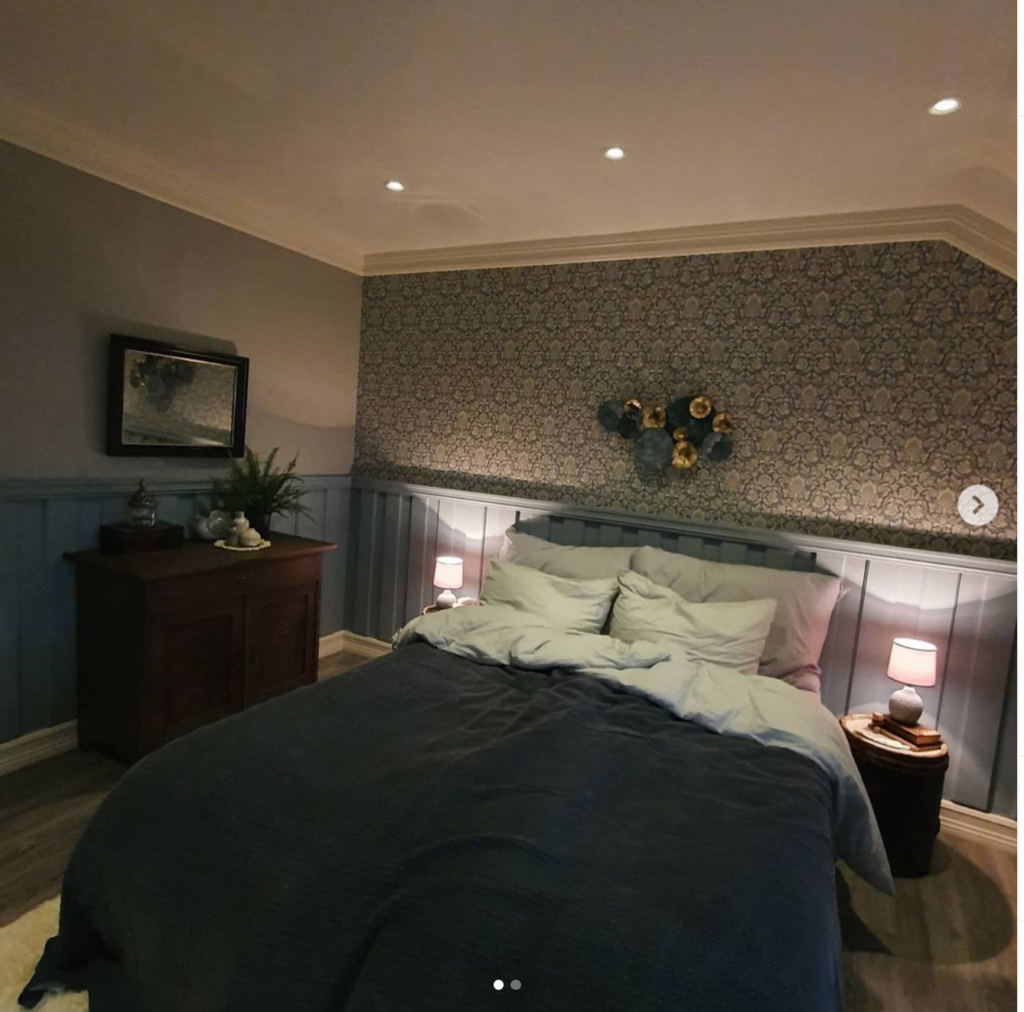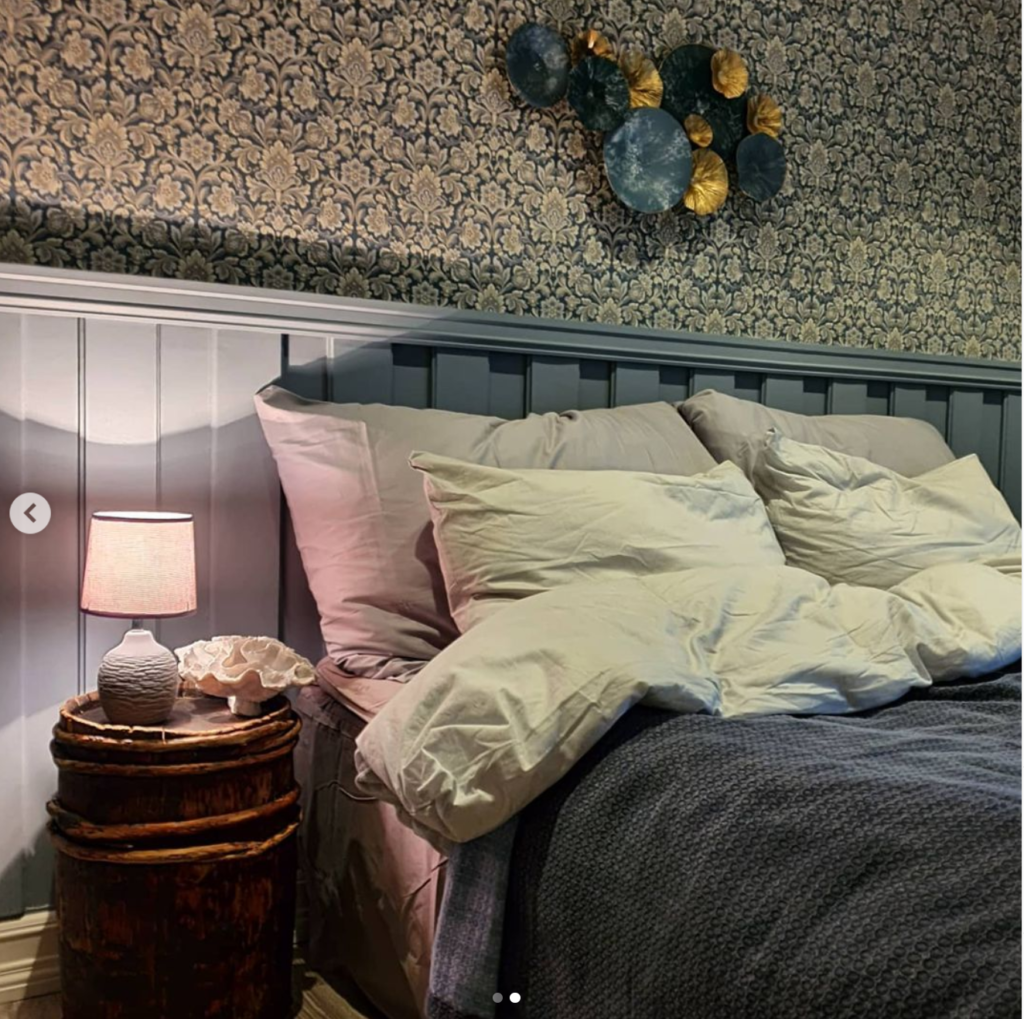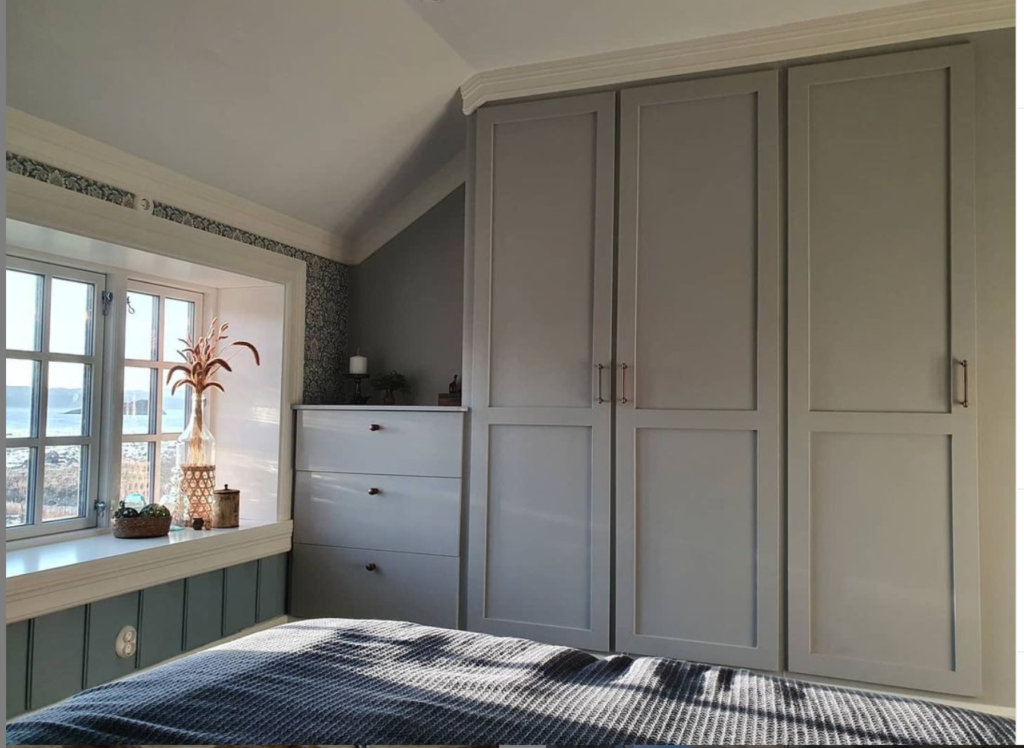 Loftsstua blir også veldig fin. Malene fikk møblene i hus i går, og i dag ser loftsstua slik ut.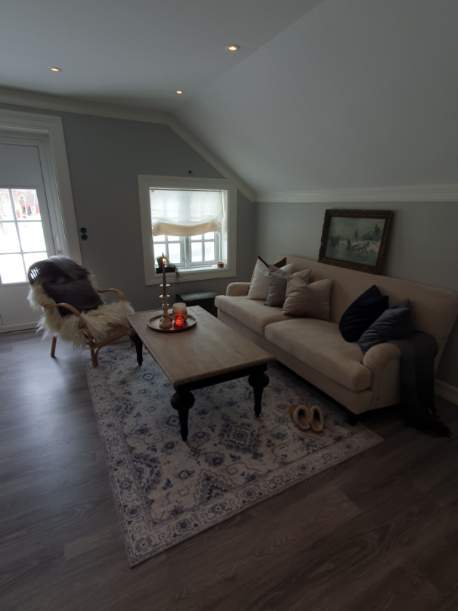 Nå er det trappa ned fra loftsstua til den nye yttergangen, rekkverk, handtre og spiler, som er under arbeid. Soverommet mot øst og loftgangen er også straks klar for «visning».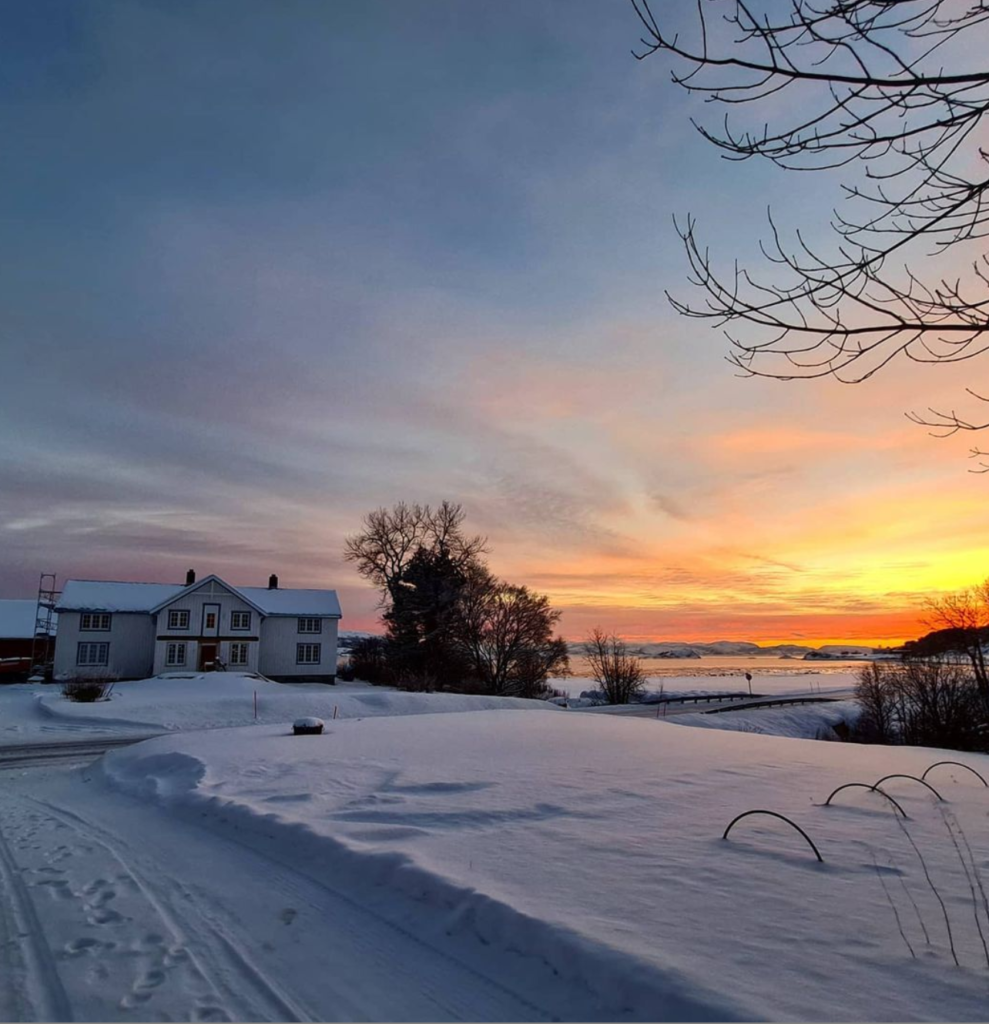 Vi legger ut bilder etterhvert som de blir ferdige. Følg med på Instagram! Etter hvert blir det flere innlegg på bloggen også.